Hello guys! I hope you're all having a great week! This is kind of a techy post, so I'll make it short and simple. News broke on Wednesday that Google Reader would cease to exist on July 1st as part of Google's "Spring Cleaning" initiative. So if you follow the blogs you like on Google Reader, don't panic!
Bloglovin'
is the new and most widespread tool to follow and organize the blogs we like.
I've already moved to Bloglovin' to be up to date with the blogs I like and follow and the migration is actually super simple and literally takes 2 minutes! You just have to create a Bloglovin' account and in the process it asks you if you want to import the blogs you read on Google Reader to your new Bloglovin' account. Click the button to import and that's it! And if you already have a Bloglovin' account and want to import your Google Reader blogs, you can also do it clicking on this
link.
Hola chic@s! Espero que estéis teniendo una estupenda semana! Este post es un poco tecnológico, así que lo haré breve y sencillo. El pasado miércoles Google lanzó la noticia de que su herramienta Google Reader dejará de existir el próximo 1 de Julio como parte de la iniciativa "Limpieza primaveral" de Google. Así que si seguís los blogs que os gustan en Google Reader, no os asustéis! Bloglovin' es la nueva y más extendida herramienta para seguir y organizar los blogs que nos gustan.
Yo ya me he pasado a Bloglovin para estar al día de las actualizaciones de los blogs que me gustan y sigo y la migración es realmente sencilla y sólo lleva 2 min! Sólo tenéis que crear una cuenta en Bloglovin' y en el proceso de creación os pregunta si queréis importar los blogs que seguís en Google Redar a tu nueva vuenta de Bloglovin'. Hacemos click en el botón para importar y listo! Y si ya tenéis una cuenta de Bloglovin' y queréis importar vuestros blogs de Google Reader, también podéis hacerlo en este enlace.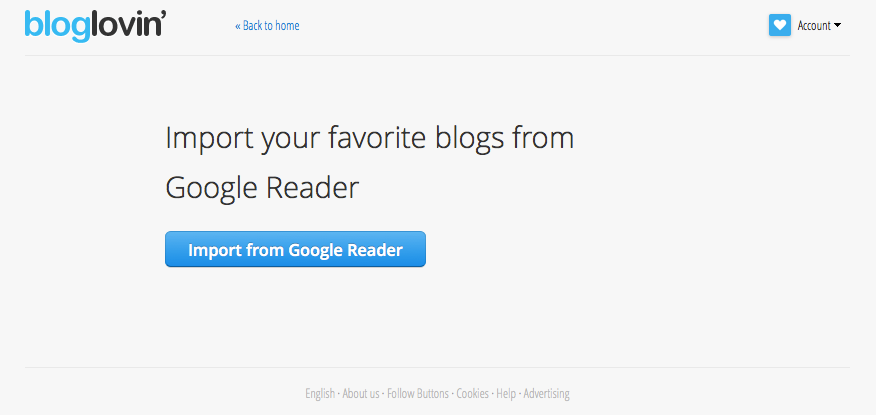 The platform looks similar to Google Reader and moreover, you can organize the blogs you follow by cathegories…
La plataforma es estéticamente similar a Google Reader y además, puedes organizar los blogs que sigues por categorías...
And for those of you who like to read your favorite blogs on your phone or tablet, there
is also the Bloglovin' app for
Iphone or Ipad
and for
Android
! Thank you all for being such loyal readers, I feel so lucky! Now go get your read on and
Follow my blog with Bloglovin'
!! :)
Y para aquellos de vosotros que os gusta leer vuestros blogs favoritos en vuestro móvil o tablet, aquí está la app de Bloglovin' para Ipone o Ipad y para Android! Muchas gracias por ser fieles seguidores, me siento muy afortunada! Ya podéis volver a vuestra lectura y seguir mi blog en Bloglovin'!! :)